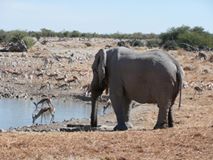 Namibia Travel Advice
Travel-namibia.org - a free knowledge base for tourists visiting Namibia from any part of the world

Unlike tourist guides that ask for a fee before arranging travel trips, we don't
Our Namibia Travel counsellors provide information on all tourist spots, assist in providing accommodation, and arrange camps, etc. without charging a fee from the tourists.
Our website is more than just a knowledge base. Travellers are given an opportunity to interact with fellow travellers and seek advice or tips from expert travellers visiting Namibia.
We also allow travel writers to post their travelogue and photos at our site.  Travellers can earn, exchange views, and enjoy through their own blogs without paying.

Travel-namibia.org is a non-commercial site that is used as a free resource on tips and useful information that tourists need while travelling in Namibia.
It is an interactive platform where travellers can exchange views and stories. We do not intend to make it a money-making venture.